If you are looking to Charter a yacht in the Mediterranean, sail around Cyprus, or go on a boat trip, this used to be the only place to find out about it. Fishing trips can be arranged, both deep sea and freshwater fishing, for which you need to see the Fishing in Cyprus page
If you have any questions about the nautical scene in Cyprus, ask us.

Larnaca

has a superb bay for sailing, with a steady wind most afternoons. Sailing in Cyprus has gained popularity in recent years, and marinas are (still) being planned and built. The marina in Larnaca was a pleasant enough place which used to have a diverse yachting community and a good nautical joke can still sometimes be overheard in the marina bar.
A trip around the bay with Flisvos is no longer an option but a Day charter with swimming at lunchtime is a very enjoyable trips, see what I mean below.

Article on Larnaca Marina...

Latest Article on Larnaca Marina - don't really want to publish it!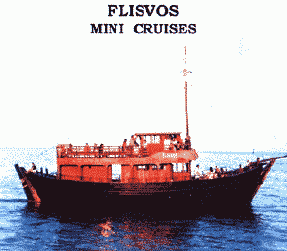 A little piece of Larnaca history, now added to the others!
Fishing from Cyprus
Join us for : Fishing, swimming and snorkelling, all equipment provided.

We also cater for Deep sea fishing (Tuna) night fishing and private parties at very reasonable prices.
70 euros per adult

see more details at
Fishing




To charter a yacht or go on a boat excursion see
For a trip on a shared cruise from Larnaca, see here
Prices from 60 - 250 Euros

From Limassol, Paphos or Latchi, look here

Full Day Tour: Departure 08:00 return approx. 17:00
Price : 55 euro per Adult
35 Euros for Children

This excursion runs on;
Tuesdays and Fridays and Saturdays from May to November.
If you are interested in fishing in Cyprus Click here

Well it may look small now, but wait until you click on it

Contact us by phone
(00357) 24-665408
fax us on Larnaca
24 627489
E-mail by clicking on this ship

CSS Yacht Charter - A historical Museum piece

A great day out on a real ocean going sailing yacht in Cyprus.

Another unforgettable experience with clean and clear deep blue water to swim in, God's good wind and a sleek yacht at your disposal for the day, which you can no longer experience..
The Yacht was a Bowman 36 ocean going sailing yacht. She had sailed the Atlantic, Caribbean, North Sea, Red Sea, Indian Ocean and South China Sea.
She had raced successfully and held the Cyprus Championship for offshore yachts. She was well equipped and ready to go anywhere.
A champagne lunch was served. The bar was open at all times and the skipper and steward were there to pamper you and make this day the high point of your stay in Cyprus.

The price was Cú250



To see more yachts in Cyprus which
are available for charter see
[ Home ] [ Up ] [ Boats wanted ] [ Charter/ Boat trips ] [ Bareboat Charter ] [ Commercial shipping ] [ Crew list ] [ Larnaca Marina ] [ Wanted ] [ Yachties Noticeboard ] [ Sailing News ] [ Yacht clubs ] [ Sailing School ] [ Yachts for sale ] [ Sale Registration ]