Carp Angling, freshwater fishing and deep sea fishing in Cyprus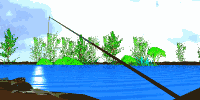 We noticed from our stats that a lot of you were somehow coming in to a page called fishing, which didn't exist, so we added this page so that you can indeed find out about all kinds of fishing in Cyprus.
Coarse Fishing in Cyprus

Top ten fishing dams of Cyprus
The Diving pages

Feedback -the good, the bad and the ugly
Article on protecting the underwater marine environment.
The Cyprus anglers club and anglers association
Questions about fishing or angling in Cyprus?
people@indowoncyprus.com
That covers what we offer on the island of Cyprus for the fisherman and angler. If you know about any other trips or good places to fish that we have not covered please let us know.
We must just add that we were not impressed with the story we heard about fishing on the 8th January 2008, we had a call that 2 large sharks had been caught in the bay. One of our chaps went down to see what the fuss was about and was quite disgusted to see that the shark were in fact a family of dogfish. They were indeed big but the mummy fish was in the process of giving birth and her young were spilling out of her onto the concrete. The big game fishermen were happily having their photo's taken with these big dangerous bottom feeders, a family of 3, mum, dad and the elder brother or sister. Mum had a huge scar on her where she had obviously been roped at some point in the past. Please think about how few fish are left in the seas and although we know that fishermen tell big stories occasionally a dogfish is not a dangerous killer, we are.